Self Defense and Martial Arts Classes
Practical Self-Defense – Not just kicks and punches and belts, but real advise to make you defend yourself!
The ability to protect yourself in case of adversity is something that one must possess especially in a city fraught with worrying news such as Delhi. After the Nirbhaya case, we at Delhi Dance Academy decided to do something about empowering men and women with ideas and moves to protect themselves and others and to avoid scuffles if such a situation arises. The self-defense cum martial arts classes at Delhi Dance Academy are not your typical Taekwondo/Karate/Kung-Fu classes – rather they're a very cleverly designed set of classes where we teach you the actual art of self-defense without going through different belt colours and without spending a lot of time repeating same punch or kick moves because the idea and objective is not to make you a black-belt, but to ACTUALLY train you on how to become stronger and to protect yourself if God-forbid, such a situation arises. 
Regularly updated schedule for all Amar Colony, Delhi classes is available
at: Delhi Dance Classes Schedule.
Currently, we are not having any Self Defence classes at our Amar colony studio.
Fee:  Rs 2500 per hour. Private class – One to one with the instructor. (only on special demand & depends on the availability of the instructor)
Self Defense Classes at DDA vs Martial Arts like Karate, Taekwondo and Kung-Fu
Self-defense is often confused with martial arts and often when you're looking for self-defence classes online, you're taken to websites of institutes and academies that teach progression based martial arts like Taekwondo, Karate, Kung Fu or plain Martial Arts. These are great forms of art but with mastering them, comes the pre-requisite of having ample time (we mean years) to progress through white, yellow and then ultimately to black belt. The difference between these and self-defence at Delhi Dance Academy is that we take a complete shortcut and get you directly to movements and tricks that will help you save yourself in case of a scuffle, burglary and unwanted advances (whether sexual or otherwise) by others.
At DDA's self-defence classes, you will learn:
How to build the stamina and flexibility that will save you in case of adversity and in 3 months time, you will see the difference in the power of your kicks and punches and in your stamina if you're regular. Manoeuvres to get out of holds and from tricky situations, quick-thinking tips of what to do in case of a tricky situation.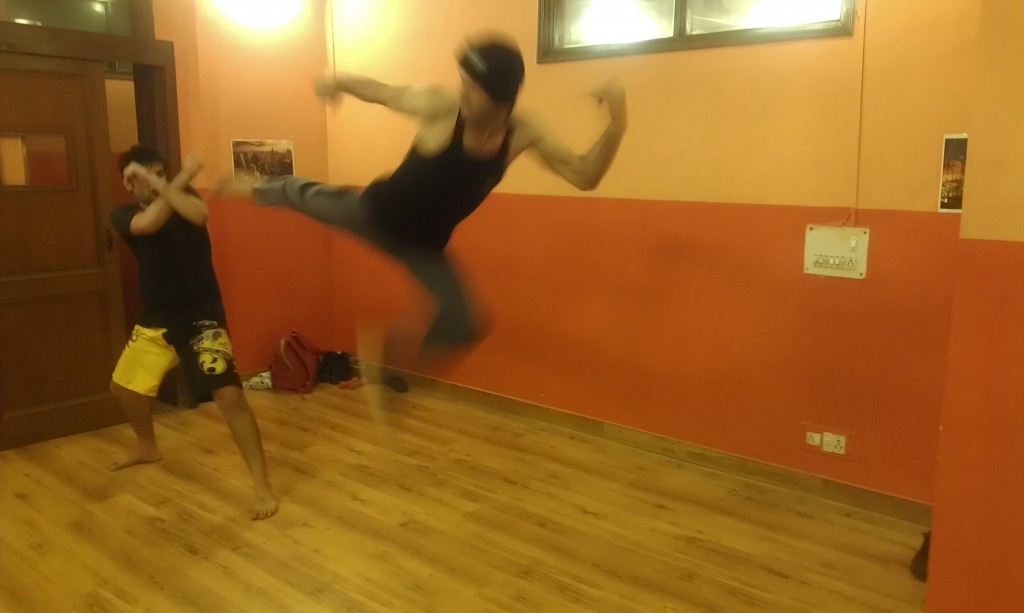 The Instructor
The Timeout Delhi acclaimed Arman Safa Khan from Afghanistan is the instructor. He is trained in Gymnastics, Fencing and Martial Arts.
Got anything to say? Go ahead and leave a comment!
Google Plus - Delhi Branch




Dance Away that Flab
Can't decide between the gym and dancing to lose that extra weight or to stay fit in general? Here's a list of dance forms taught at Delhi Dance Academy with the average calories burnt in 1 hour:

Zumba: 500-1000
Aerobics: 500-800 Jazz Contemporary: 400-600
Bharatnatyam: 400-600
Hip-Hop: 350-550
Belly dance: 250-450
Bollywood: 300
Salsa: 200-300

These numbers vary with your body weight and the amount of effort you put in.

How can I lose weight?
You lose weight when you consume or burn more calories than you take. Burning 3500 calories means you lose 1 lbs or 450 grams (almost half a Kilo) of weight.

In other words, if you cut 500 calories from your diet each day or burn 500 calories working out or dancing, you would lose 0.45 kgs in a week. :)

At Delhi Dance Academy we can also talk to you about your daily diet and recommend changes to help you lose weight.
Delhi Dance Academy has been featured on
24 x 7 News Channel
as one of Delhi's best dance institutes. 
We have made recent appearances on TV Channels like
BBC, Aajtak, 
E TV, NHK World, MTv and NDTV Goodtimes.
 We are among the top 50 activities to do while in Delhi by
TripAdvisor
with excellent reviews.
DDA remains one of Delhi's most sought after dance academies - The Hindu
Delhi's Top 5 Places to Learn Hip Hop, Popping and Locking - HT City, Hindustan Times
Belly Dancing Classes That'll Help You Ace The Art - HT City, Hindustan Times
Top 5 Places to Learn Bollywood Dance in Delhi - HT City, Hindustan Times
Delhi's Best Places to Learn Dance - Delhi Times, Times of India
Zumba at Delhi Dance Academy, I must confess, leaves me panting and exhausted - Business Standard
Shaadi Poori Filmi Hai (Article on Wedding Choreography) - TFL Magazine
Namaste India Dance Workshops - Editor's Pick - Timeout Delhi Magazine
The Top Place for B Boying, Hip Hop, Funk Jazz and Zumba - Hindustan Times main newspaper
Gymnastics Classes by Arman Safa Khan - Timeout Delhi
Shall We Dance? Director Arjun Sandhu interviewed by HT Mint
11 Unusual Things To Do In Delhi by About.com
Top 10 Things to Do In Delhi by Guardian UK
Latest Schedule of all Batches in Delhi is available at: Latest Dance Classes Schedule Delhi
Latest Schedule of all Batches in Gurgaon is available at: Latest Dance Classes Schedule Gurgaon
D
D
A

I
N

T
H
E

P
R
E
S
S