College Dance Choreography Delhi | Fests & Competitions
Dance Services for Colleges and Universities
College Dance Choreography
Performances at College Fests
Judging at College/University Fests and Competitions

College Fest Dance Choreography – College Dance Programs
College festivals are time for all college dance societies to get practising and prepare an 8-10 minute dance performance. Dance competitions are held in various genres, the most common being Bollywood, Choreography (which includes western classics like jazz, contemporary and ballet), western solo and western group, duo/duet performances.
Whatever the performance, we have some of Delhi's best instructors including the DID top 10 Chow en Lai (The Flying Prince), Vishnu Swarup from India's Dancing Superstar, Prashant Bhat – Best Dancer 2012 (Danceworx), Anish Kaul (Hip Hop), Manish Saini (Bollywood), Aditi Saxena (Semi Classical, Kathak and Folk), Krishna (15 years experience in Bollywood), Paau DC (the pioneer of B Boying in Delhi of Mtv fame), Suren (fitness expert for zumba), Meraz Alam (Salsa, social dancing, contemporary, ballet expert who's choreographed for various colleges), Mayank Nakra (Urban Hip Hop), Rakshit Arora (Contemporary) both experts from the New York Broadway Dance Centre, Arman (Self Defense Expert and an Olympics Qualified Gymnast) to name some of the faculty on offer. Arguably, it is one of the finest dance teams ever assembled and are capable of creating award winning college dance choreography.
Performances at College Fests:
Delhi Dance Academy has consistently sent top class dance troupes for college events.
Hip Hop Crew: Our hip hop official group is the #1 dance crew in the city (according to Hip Hop International) and the 5th best in the country. They're called the Swag Gang Crew. They've been seen on TV numerous times, have been felicitated by Mr Subhash Ghai (Whistling Woods International) and have performed for various music videos.
Folk Dance Troupe: Our folk dance troupe has won the National Republic Day Camp twice in a row in 2012 and 2013 and has performed in front of the prime minister. The group is led by Gurmeet Singh and is one of the most sought after folk dance groups in the country. With their multi-award winning Ganesh Vandana, Patriotic Act and Durga Act, you can be sure that the audience will be completely enthralled.
Bollywood Troupe: Our Bollywood troupe is led by Krishna who's been performing for the last 15 years and is a fantastic organiser, dancer, choreographer, make up artist – basically a one man army and under his leadership, we have performed at some of the biggest events for top event management companies with excellent ratings everywhere.
Jazz and Contemporary: Our jazz and contemporary is led by 3 great artists – Meraz Alam, Prashant Bhat and Chow en Lai. All three are stars in their own right and have multiple accomplishments under their belts. With our Carbon Plus program, where we train beginners into professional artists, we have a group that has performed at massive events like at IG Stadium in front of 15,000 people for Wizcraft, Rhythm of Love, Avajarred 3 and Oomphoria with excellent ratings at all venues.
Judges for Dance Competitions at Colleges and Universities: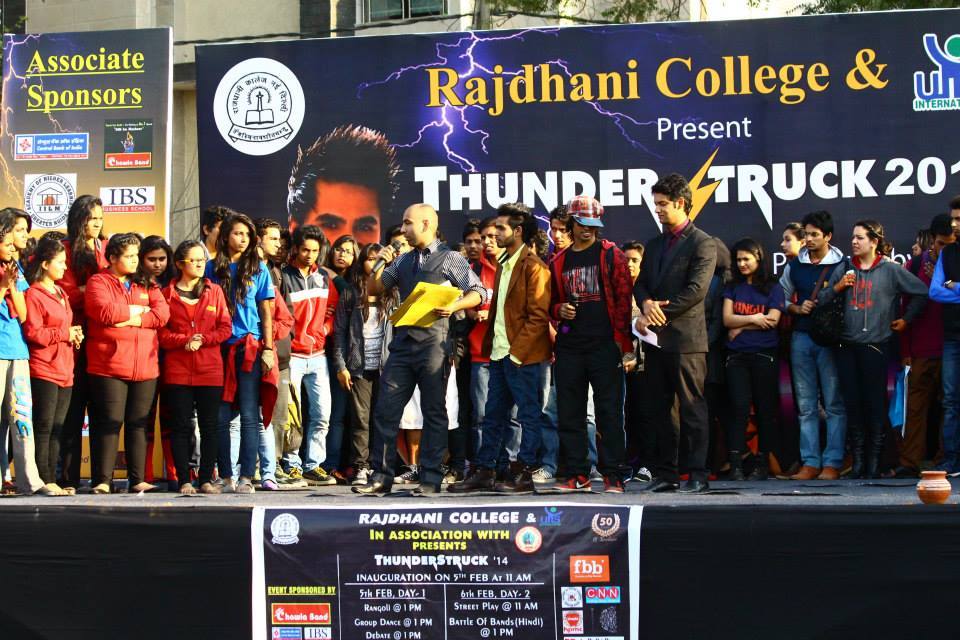 With our expert team, irrespective of the dance style, we can provide highly renowned judges including the directors Arjun and Anant Sandhu who have judged dozens of very prestigious dance events in Delhi University, IP University and independent colleges. Judging requires intense knowledge and experience of the genre being judged and with Delhi Dance Academy's extensive team, we have experts in every dance genre. Contact us to check our availability.
We have recently judged at FMS (Faculty of Management Studies, University of Delhi), IIIT Delhi, Rajdhani College, Jamia Millia Islamia, American Express Corporate Dance Event, HCL Technologies, SRM University, Delhi School of Professional Studies & Research (DSPSR), The Dance Crusade, Guwahati and Guru Gobind Singh Indraprastha University.
Got anything to say? Go ahead and leave a comment!
Google Plus - Delhi Branch




Dance Away that Flab
Can't decide between the gym and dancing to lose that extra weight or to stay fit in general? Here's a list of dance forms taught at Delhi Dance Academy with the average calories burnt in 1 hour:

Zumba: 500-1000
Aerobics: 500-800 Jazz Contemporary: 400-600
Bharatnatyam: 400-600
Hip-Hop: 350-550
Belly dance: 250-450
Bollywood: 300
Salsa: 200-300

These numbers vary with your body weight and the amount of effort you put in.

How can I lose weight?
You lose weight when you consume or burn more calories than you take. Burning 3500 calories means you lose 1 lbs or 450 grams (almost half a Kilo) of weight.

In other words, if you cut 500 calories from your diet each day or burn 500 calories working out or dancing, you would lose 0.45 kgs in a week. :)

At Delhi Dance Academy we can also talk to you about your daily diet and recommend changes to help you lose weight.
Delhi Dance Academy has been featured on
24 x 7 News Channel
as one of Delhi's best dance institutes. 
We have made recent appearances on TV Channels like
BBC, Aajtak, 
E TV, NHK World, MTv and NDTV Goodtimes.
 We are among the top 50 activities to do while in Delhi by
TripAdvisor
with excellent reviews.
DDA remains one of Delhi's most sought after dance academies - The Hindu
Delhi's Top 5 Places to Learn Hip Hop, Popping and Locking - HT City, Hindustan Times
Belly Dancing Classes That'll Help You Ace The Art - HT City, Hindustan Times
Top 5 Places to Learn Bollywood Dance in Delhi - HT City, Hindustan Times
Delhi's Best Places to Learn Dance - Delhi Times, Times of India
Zumba at Delhi Dance Academy, I must confess, leaves me panting and exhausted - Business Standard
Shaadi Poori Filmi Hai (Article on Wedding Choreography) - TFL Magazine
Namaste India Dance Workshops - Editor's Pick - Timeout Delhi Magazine
The Top Place for B Boying, Hip Hop, Funk Jazz and Zumba - Hindustan Times main newspaper
Gymnastics Classes by Arman Safa Khan - Timeout Delhi
Shall We Dance? Director Arjun Sandhu interviewed by HT Mint
11 Unusual Things To Do In Delhi by About.com
Top 10 Things to Do In Delhi by Guardian UK
Latest Schedule of all Batches in Delhi is available at: Latest Dance Classes Schedule Delhi
Latest Schedule of all Batches in Gurgaon is available at: Latest Dance Classes Schedule Gurgaon
D
D
A

I
N

T
H
E

P
R
E
S
S