Zumba Classes in Delhi by DDA (Certified)
Delhi Dance Academy – Amar Colony Centre
Regularly updated schedule for all Amar Colony, Delhi classes is available
at: Delhi Dance Classes Schedule.
Delhi Timings
Morning:
Tue, Thurs – 7 am to 8 am & Sat 7:30 am to 8:30 am. ENROLLING
Tue, Thurs, Sat & Sun – 10 am to 11 am. ENROLLING

Evening:
Mon, Wed, Fri – 6 pm to 7 pm. ENROLLING
Mon, Wed, Fri – 7 pm to 8 pm. ENROLLING
Mon, Wed, Fri – 8 pm to 9 pm. ENROLLING
What if the batch I want to join is full?
Answer: Please visit DDA and register by paying Rs 300. As soon as you do that, you will be placed on a waiting list and as soon as a place becomes available in your preferred time-slot, you will be called to start your classes. When you're called, the Rs 300 that you paid for registering will be adjusted with your fee. It usually takes 1-2 weeks for us to call you on average, however, it may vary. If while waiting you decide to cancel being on the waiting list, then the Rs 300 will be refunded to you. We suggest you register at once!
Fee for Zumba Classes (3 hours per week):
Monthly – Rs.3000
Quarterly – Rs.9000 Rs.7000 (saving of Rs.2000)
Half Yearly – Rs.18000 Rs.12000 (saving of Rs.6000)
Yearly – Rs.36000 Rs.20000 (saving of Rs.16000)
Fee for Zumba Classes (2 hours per week):
Monthly – Rs.2500
Quarterly – Rs.7500 Rs.6000 (saving of Rs.1500)
Half Yearly – Rs.15000 Rs.10000 (saving of Rs.5000)
Yearly – Rs.30000 Rs.18000 (saving of Rs.12000)
Fee for Zumba Classes (5 hours per week):
Monthly – Rs.4000
Quarterly – Rs.12000 Rs.10000 (saving of Rs.2000)
Half Yearly – Rs.24000 Rs.16000 (saving of Rs.8000)
Yearly – Rs.48000 Rs.28000 (saving of Rs.20000)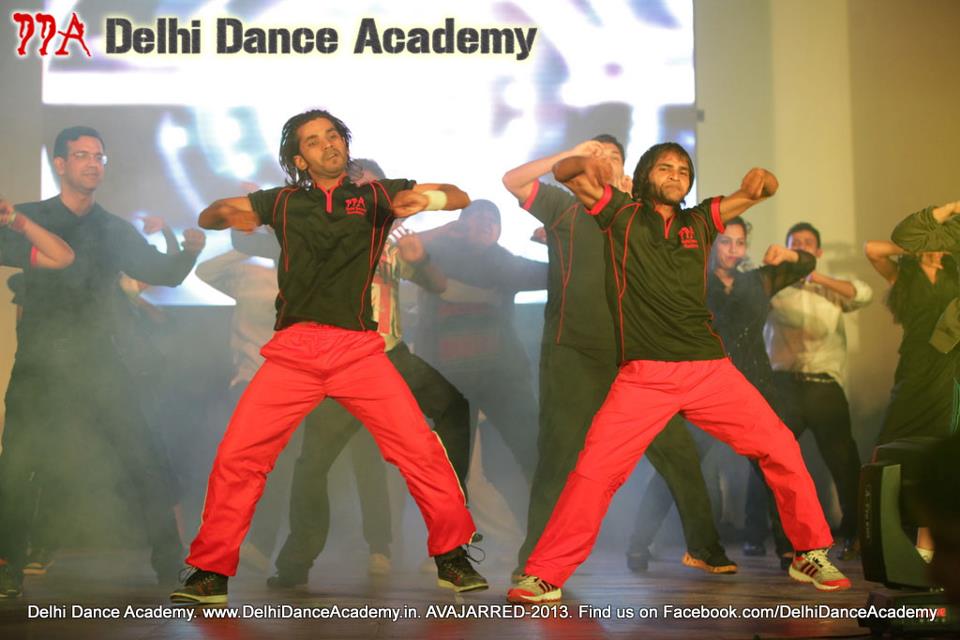 Zumba is coming up as a fun-filled form of entertainment as well as exercise. Most students choose Zumba classes as a means to fitness in their daily routines. We have an official page on Zumba.com as a certified Zumba instructor and a ZIN member.
Delhi Dance Academy has trained instructors to teach Zumba and classes are held throughout the week.
What to expect (class videos)
Origin of Zumba:
On a fateful day in the mid-90s, a Colombian dance teacher, Alberto Beto Perez forgot to carry the required aerobics music to his class. Having no better option, he decided to use the old salsa and merengue music from his personal collection. This experiment resulted in hours of non-stop party like dance classes that are now known as 'Zumba' all over the globe!
Today Zumba involves the elements of various dance forms like belly dancing, salsa, merengue, hip-hop, martial arts and bhangra, etc.
In fact, Zumba has now evolved to constitute various categories including Aqua Zumba which includes Zumba dance steps being performed inside a swimming pool so that the dancers can enjoy a fun-filled water-based workout while toning their bodies.
The most interesting quality of Zumba is the fact that it engages its dancers in an exhilarating mode of exercise while giving them the pleasure of enjoying a stress-busting dance party!
Zumba Classes in Delhi:
Zumba has spread throughout the world in a very short span of time. With the ever-increasing demand for it in Delhi, many institutes have cropped up to meet the needs. However, while selecting an institute to learn Zumba, it is essential to keep a few things in mind.
The most important thing is to ensure that your Zumba trainer really knows his/her dance.
Being a high energy based dance form, Zumba requires you to put in a good amount of physical strength. And, while this technique serves wonders in regards to the body fitness results, it is important for your body to be well warmed up before you start to put in all that amount of effort into your dance. A good training instructor would hence, ensure that you follow a good warm-up regime along with a flawless Zumba dance schedule.
The next important thing to remember while deciding a good place to learn Zumba from is to ensure that along with all the exercise, your dance class provides you with a truly exuberant experience so that the Zumba time stands as a stress releasing and positive-energy infusing part of your day!
At Delhi Dance Academy, with our talented and dance loving trainers, we aim to make sure that your Zumba learning experience is totally enthralling and at the same time, incredibly beneficial for your physical fitness.
 Which Fitness Workout is Best for Me?
At Delhi Dance Academy we run 4 fitness programs – Zumba, Aerobics, Power Yoga/Yoga and Self Defense Martial Arts. All these are aimed at increasing body flexibility, reducing fat and making you physically stronger. Power Yoga is more about muscle training along with breathing exercises and asanas to increase body endurance whereas Martial Arts are for self-defence techniques to improve combat and to protect yourself in case of adversity. Aerobics and Zumba are major stamina builders – major advantages of both and comparisons are listed on our Aerobics Vs Zumba page. If you're a dancer, then go for Zumba and if you want rock solid abs and muscle training, then go for Aerobics! Whatever you decide to do, Delhi Dance Academy has excellent trainers and infrastructure. You can call us to discuss your personal requirements.
Google Plus - Delhi Branch




Dance Away that Flab
Can't decide between the gym and dancing to lose that extra weight or to stay fit in general? Here's a list of dance forms taught at Delhi Dance Academy with the average calories burnt in 1 hour:

Zumba: 500-1000
Aerobics: 500-800 Jazz Contemporary: 400-600
Bharatnatyam: 400-600
Hip-Hop: 350-550
Belly dance: 250-450
Bollywood: 300
Salsa: 200-300

These numbers vary with your body weight and the amount of effort you put in.

How can I lose weight?
You lose weight when you consume or burn more calories than you take. Burning 3500 calories means you lose 1 lbs or 450 grams (almost half a Kilo) of weight.

In other words, if you cut 500 calories from your diet each day or burn 500 calories working out or dancing, you would lose 0.45 kgs in a week. :)

At Delhi Dance Academy we can also talk to you about your daily diet and recommend changes to help you lose weight.
Delhi Dance Academy has been featured on
24 x 7 News Channel
as one of Delhi's best dance institutes. 
We have made recent appearances on TV Channels like
BBC, Aajtak, 
E TV, NHK World, MTv and NDTV Goodtimes.
 We are among the top 50 activities to do while in Delhi by
TripAdvisor
with excellent reviews.
DDA remains one of Delhi's most sought after dance academies - The Hindu
Delhi's Top 5 Places to Learn Hip Hop, Popping and Locking - HT City, Hindustan Times
Belly Dancing Classes That'll Help You Ace The Art - HT City, Hindustan Times
Top 5 Places to Learn Bollywood Dance in Delhi - HT City, Hindustan Times
Delhi's Best Places to Learn Dance - Delhi Times, Times of India
Zumba at Delhi Dance Academy, I must confess, leaves me panting and exhausted - Business Standard
Shaadi Poori Filmi Hai (Article on Wedding Choreography) - TFL Magazine
Namaste India Dance Workshops - Editor's Pick - Timeout Delhi Magazine
The Top Place for B Boying, Hip Hop, Funk Jazz and Zumba - Hindustan Times main newspaper
Gymnastics Classes by Arman Safa Khan - Timeout Delhi
Shall We Dance? Director Arjun Sandhu interviewed by HT Mint
11 Unusual Things To Do In Delhi by About.com
Top 10 Things to Do In Delhi by Guardian UK
Latest Schedule of all Batches in Delhi is available at: Latest Dance Classes Schedule Delhi
Latest Schedule of all Batches in Gurgaon is available at: Latest Dance Classes Schedule Gurgaon
D
D
A

I
N

T
H
E

P
R
E
S
S