Learn Tap Dancing * Tap Dance Classes in Delhi
Tap Dance in Delhi is a relatively new concept with Delhi Dance Academy leading the scene with the highly acclaimed Sam Angaria leading the Tap Dance division. Mr Angaria  is Delhi Dance Academy's lead Tap Dance instructor and has made various tap dance related TV appearances in 2013-2014 including on TV programs – India's Dancing Superstar and Entertainment Ke Liye Kuchh Bhi Karega.
You can watch the video of our team performing at: http://youtu.be/lqNraRN8UtE?t=32m36s (will open in a new window)
Some believe that Jazz dance and Tap Dance have common origins. Tap dance is characterized with a sequence of synchronized tap sounds (that originate when the metallic piece at the bottom of the shoe hits against the floor).
Tap Dance Troupe ; Tap Dancing Performance for Shows
Our troupe of 5 people can perform upto 2 tap dance performances at any event. For tap dance troupe enquiries in Delhi and NCR, please contact Anant on 9953835088. The Superbang Crew troupe has performed at various shows including the International Film Awards, Entertainment Ke Liye Kuchh Bhi Karega TV show, India's Dancing Superstar TV show, NIKE and various other events with excellent feedback. The troupe consists of 3 guys and 2 girls who have Irish Tap Dance costumes and the performers and trained by Sam himself.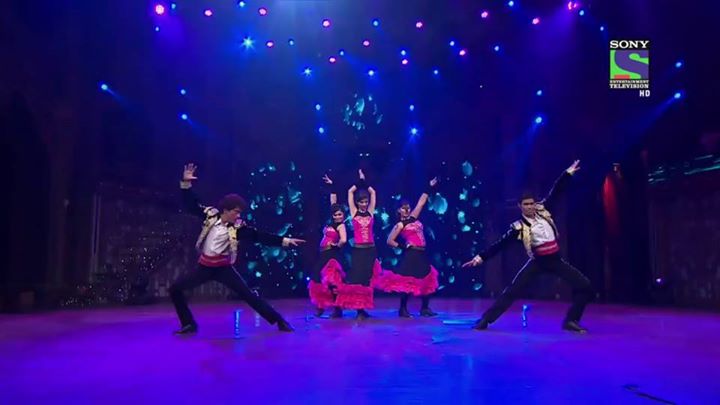 Got anything to say? Go ahead and leave a comment!
Google Plus - Delhi Branch




Dance Away that Flab
Can't decide between the gym and dancing to lose that extra weight or to stay fit in general? Here's a list of dance forms taught at Delhi Dance Academy with the average calories burnt in 1 hour:

Zumba: 500-1000
Aerobics: 500-800 Jazz Contemporary: 400-600
Bharatnatyam: 400-600
Hip-Hop: 350-550
Belly dance: 250-450
Bollywood: 300
Salsa: 200-300

These numbers vary with your body weight and the amount of effort you put in.

How can I lose weight?
You lose weight when you consume or burn more calories than you take. Burning 3500 calories means you lose 1 lbs or 450 grams (almost half a Kilo) of weight.

In other words, if you cut 500 calories from your diet each day or burn 500 calories working out or dancing, you would lose 0.45 kgs in a week. :)

At Delhi Dance Academy we can also talk to you about your daily diet and recommend changes to help you lose weight.
Delhi Dance Academy has been featured on
24 x 7 News Channel
as one of Delhi's best dance institutes. 
We have made recent appearances on TV Channels like
BBC, Aajtak, 
E TV, NHK World, MTv and NDTV Goodtimes.
 We are among the top 50 activities to do while in Delhi by
TripAdvisor
with excellent reviews.
DDA remains one of Delhi's most sought after dance academies - The Hindu
Delhi's Top 5 Places to Learn Hip Hop, Popping and Locking - HT City, Hindustan Times
Belly Dancing Classes That'll Help You Ace The Art - HT City, Hindustan Times
Top 5 Places to Learn Bollywood Dance in Delhi - HT City, Hindustan Times
Delhi's Best Places to Learn Dance - Delhi Times, Times of India
Zumba at Delhi Dance Academy, I must confess, leaves me panting and exhausted - Business Standard
Shaadi Poori Filmi Hai (Article on Wedding Choreography) - TFL Magazine
Namaste India Dance Workshops - Editor's Pick - Timeout Delhi Magazine
The Top Place for B Boying, Hip Hop, Funk Jazz and Zumba - Hindustan Times main newspaper
Gymnastics Classes by Arman Safa Khan - Timeout Delhi
Shall We Dance? Director Arjun Sandhu interviewed by HT Mint
11 Unusual Things To Do In Delhi by About.com
Top 10 Things to Do In Delhi by Guardian UK
Latest Schedule of all Batches in Delhi is available at: Latest Dance Classes Schedule Delhi
Latest Schedule of all Batches in Gurgaon is available at: Latest Dance Classes Schedule Gurgaon
D
D
A

I
N

T
H
E

P
R
E
S
S