Belly Dance Classes in Delhi by Delhi Dance Academy
Beginner Level Students During a Masterclass Shoot at the Capitol, Hotel Ashok, New Delhi:

Class Times
Regularly updated schedule for all Amar Colony, Delhi classes is available
at: Delhi Dance Classes Schedule and the schedule for all Gurgaon classes
is available at: Dance Class Schedule in Gurgaon.
1. Schedule: Sundays 12pm to 3pm (3 hours a week, 12 hours a month)
Maximum Students in batch: 12 – ENROLLING
Level: Beginners (Level A)
2. Schedule: Saturdays and Sundays 4:00pm to 5:30pm (3 hours a week, 12 hours a month)
Maximum Students in batch: 12 - ENROLLING
Level: Beginners (Level A)
3. Schedule: Mondays and Wednesdays 4:30pm to 6:00pm (3 hours a week, 12 hours a month)
Maximum Students in batch: 12 - ENROLLING
Level: Beginners (Level A)
Fee for Belly Dance Classes (3 hours per week):
Monthly - Rs.3000
Quarterly - Rs.9000 Rs.7000 (saving of Rs.2000)
Half Yearly - Rs.18000 Rs.12000 (saving of Rs.6000)
Yearly - Rs.36000 Rs.20000 (saving of Rs.16000)
Enrollment in the Beginners' batch is now open. Call us to book your place or for more information. Total 12 spaces.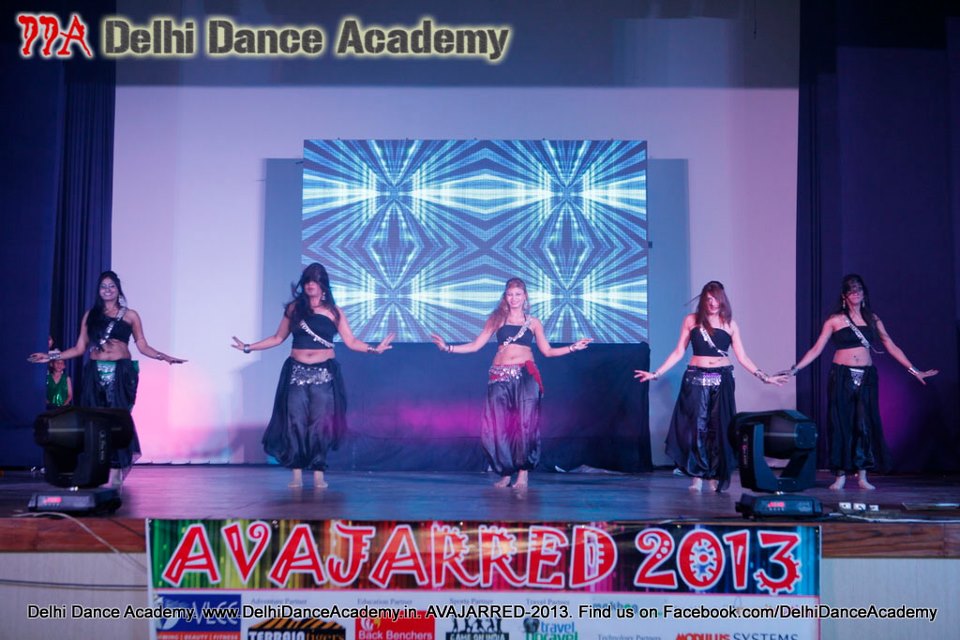 Areas within 5 kms of the Amar Colon Studio: East of Kailash, Lajpat Nagar, GK1, GK2, Greater Kailash Extension, Kailash Colony, Vikram Vihar, Dayanand Colony, Sant Nagar and South Ex.
DDA Belly Dance Classes in Hindustan Times' HT City! Best Value in Terms of Price and Hours Per Month.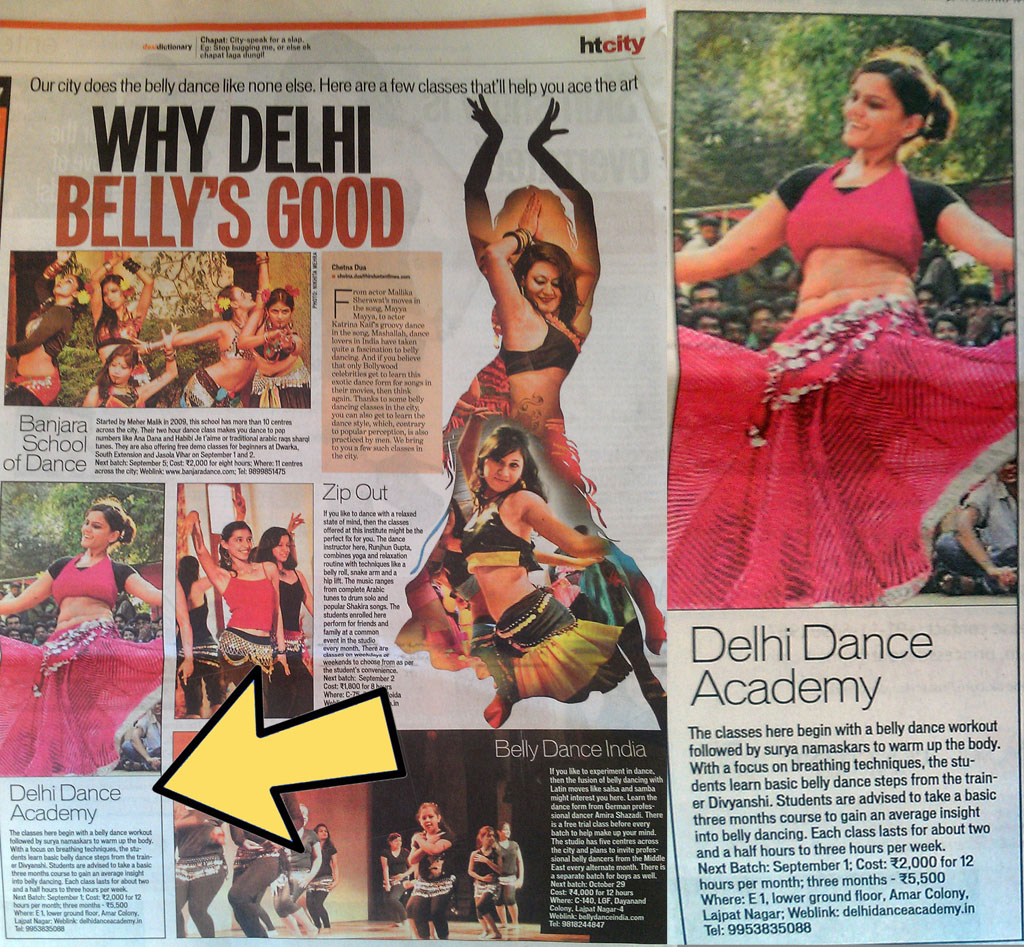 Learn Belly Dancing from Indu and Leena Vie at Delhi Dance Academy. Belly dance originated in the Middle East and is also known as "Middle Eastern Dance" or "Arabic Dance". Some however argue that it started in India in the Rajasthani Banjara tribes. Belly Dance moves are about isolating different body parts like hips, stomach, shoulders and chest and learning to move them in a dance like fashion, with special emphasis on the hips. Muscle control is an important aspect of good belly dancing.
Leena's choreography for AVAJARRED 2 – Delhi Dance Academy's show (Beginner students):

Kimaaya's choreography on Masha Allah (2nd month beginner students):

Some key elements and important moves are shiver or shimmy, hip hits and undulations.
Health benefits: Belly dancing increases flexibility of the upper body and strengthens the spine and helps strengthen the back and stomach. Regular belly dance is a proven way for women to reduce stomach fat and stay fit.
Belly Dancing in Delhi: As belly dance grew in popularity around the world with fitness based CDs and exercises, so did its popularity and demand in Delhi. There are some very good institutes for Belly Dancing in Delhi and a growing interest among young girls. Belly dancing at Delhi Dance Academy is focused on performing and is instructed by highly trained choreographers.
Leena Vie:
Meet Leena, Delhi Dance Academy's Belly and Contact Improvisation Instructor:

Assistant Instructor Indu: From New Delhi, Indu has learnt her Belly Dancing from videos of International artists including Sadie Marquardt, Rachel Brice, Zoe Jakes and Samantha Emanuel. Indu has also trained with Banjara School of Dance and Delhi Dancing from instructors Pallavi Jain, Sakshi Malik and Priyanka Valecha.
Instructors at Delhi Dance Academy: Arezou is of Persian origin, has learnt belly dancing from Turkey turning over various batches of dancers over the last many years and has won various international awards for Belly dancing, Russian Ballet and contemporary dance. Leena is a celebrity when it comes to dance – she has learnt her belly dancing from various parts of the world and is an expert in various dance forms, teaching Belly dance for the last many years. Indu has recently joined the team and is assisting at the Amar Colony. She brings a great style of teaching and has been a favourite among many students from day 1. Come visit DDA for your Belly dance class trial. Call Arjun at 9910222770 to book your trial for Rs 299. If you like the studio and instructor, you can join at the end of the class. The trial fee will be adjusted with your monthly fee if you decide to join.
Got anything to say? Go ahead and leave a comment!
Google Plus - Delhi Branch



Google Plus - Gurgaon Branch


Dance Away that Flab
Can't decide between the gym and dancing to lose that extra weight or to stay fit in general? Here's a list of dance forms taught at Delhi Dance Academy with the average calories burnt in 1 hour:

Zumba: 500-1000
Aerobics: 500-800 Jazz Contemporary: 400-600
Bharatnatyam: 400-600
Hip-Hop: 350-550
Belly dance: 250-450
Bollywood: 300
Salsa: 200-300

These numbers vary with your body weight and the amount of effort you put in.

How can I lose weight?
You lose weight when you consume or burn more calories than you take. Burning 3500 calories means you lose 1 lbs or 450 grams (almost half a Kilo) of weight.

In other words, if you cut 500 calories from your diet each day or burn 500 calories working out or dancing, you would lose 0.45 kgs in a week. :)

At Delhi Dance Academy we can also talk to you about your daily diet and recommend changes to help you lose weight.
Delhi Dance Academy has been featured on
24 x 7 News Channel
as one of Delhi's best dance institutes. 
We have made recent appearances on TV Channels like
BBC, Aajtak, 
E TV, NHK World, MTv and NDTV Goodtimes.
 We are among the top 50 activities to do while in Delhi by
TripAdvisor
with excellent reviews.
DDA remains one of Delhi's most sought after dance academies - The Hindu
Delhi's Top 5 Places to Learn Hip Hop, Popping and Locking - HT City, Hindustan Times
Belly Dancing Classes That'll Help You Ace The Art - HT City, Hindustan Times
Top 5 Places to Learn Bollywood Dance in Delhi - HT City, Hindustan Times
Delhi's Best Places to Learn Dance - Delhi Times, Times of India
Zumba at Delhi Dance Academy, I must confess, leaves me panting and exhausted - Business Standard
Shaadi Poori Filmi Hai (Article on Wedding Choreography) - TFL Magazine
Namaste India Dance Workshops - Editor's Pick - Timeout Delhi Magazine
The Top Place for B Boying, Hip Hop, Funk Jazz and Zumba - Hindustan Times main newspaper
Gymnastics Classes by Arman Safa Khan - Timeout Delhi
Shall We Dance? Director Arjun Sandhu interviewed by HT Mint
11 Unusual Things To Do In Delhi by About.com
Top 10 Things to Do In Delhi by Guardian UK
Latest Schedule of all Batches in Delhi is available at: Latest Dance Classes Schedule Delhi
Latest Schedule of all Batches in Gurgaon is available at: Latest Dance Classes Schedule Gurgaon
D
D
A

I
N

T
H
E

P
R
E
S
S